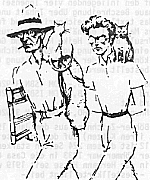 Drawing by Gunter Böhmer of Hesse and Böhmer.
---
The Hermann Hesse Page HHP has been published extramurally by Prof. em. Gunther Gottschalk since 1996 using the computing facilities of the University of California, Santa Barbara. All Rights Reserved 1996, Gunther Gottschalk.
(HHP also refers you to the additional announcements on the German-language page)
For previous "Events" Pages click here
---
GALERIE LUDORFF
KÖNIGSALLEE 22 - 40212 DÜSSELDORF
GERMANY -
Tel: 0211 326566 - Fax: 0211 323589
mail@ludorff.com . www.ludorff.com
Hermann Hesse – Aquarelle des Dichters
5 September – 31 October 2008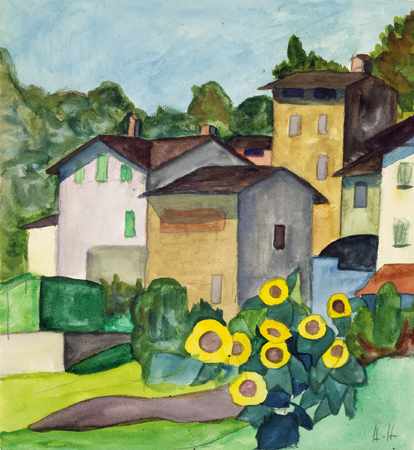 Sonnenblumen in Montagnola (Sunflowers in Montagnola), ca. 1927
It is our great pleasure to announce the upcoming exhibition "Hermann Hesse – The Poet's Watercolours", which will show over 75 watercolours and illustrated handwritten poems, many of which for the first time to the public.
Hesse – the winner of the Nobel Prize for literature in 1946 – is most famous for his acclaimed major works "Siddhartha" (1922), " Steppenwolf" (1927) and "The Glass Bead Game" (1943). There has always been a strong following for his paintings as well though. Only recently has the Museum Leopold in Vienna held a major retrospective of his paintings.
After suffering several bad strokes of faith during World War I, Hesse relocates to the Ticino region in Switzerland in 1919 where he discovers his passion and great talent for painting.
At first the autodidact uses pencil drawing and watercolour to only illustrate his hand-written poems. His first full scale watercolours of the 1920's still relate to fantasy places taken from his poems or short stories.
The Swiss painter Louis Moillet, a close friend who famously travelled to Tunisia with Blauer Reiter group artists August Macke and Paul Klee in 1914, introduces him to the beauty of painting outdoors. From 1922 his style gradually changes from the previous almost cubist to a very confident expressionist style that he uses to capture the idyllic scenery, the mountains, the lakes, little villages, flowers and gardens around Lake Lugano.
The fully illustrated catalogue can be ordered through our website
or by email for EUR 20 including postage within the EU or EUR 30 for worldwide shipments.
____________________________
Please contact Nadine Mueller or Veronika Pogany at mail@ludorff.com or +49-211-326566 for further information.
Source, image and text: Nadine Mueller or Veronika Pogany (s.a.), Duesseldorf
---
2008-06-22
The Hermann-Hesse-Museum
Montagnola
Ticino Valley, Switzerland
The Museum just published in English, Italian and German a complete listing of its
Program for the second half of 2008
Source: Marisa Würsch, Montagnola
---
2003-07-08

Patti Smith Concert in Montagnola

in honor of Hermann Hesse

July 30, 2003

The proceeds will go to support the Hermann Hesse Museum "Torre Camuzzi"

Write to hesse.museo@ticino.com for more information and tickets

Source: Bucher, Montagnola
---
2002-09-12

Hermann Hesse Today - Hermann Hesse Heute

A CONFERENCE AT THE SWISS EMBASSY AND THE INSTITUTE OF GERMANIC STUDIES


LONDON

Wednesday, 27 to Friday, 29 November 2002

Co-Ordinators: Dr Ingo Cornils (Leeds) and Professor Osman Durrani (Kent)

UNDER THE AUSPICES OF THE INSTITUTE OF GERMANIC STUDIES, THE UNIVERSITY OF KENT, THE UNIVERSITY OF LEEDS, AND THE SWISS EMBASSY, LONDON, WITH THE SUPPORT OF THE GOETHE INSTITUT INTER NATIONES, PRO HELVETIA, AND SUHRKAMP VERLAG, FRANKFURT

Program



---
Posted as a public, non-profit educational service at the University of California, S.B.
Send comments and suggestions to the Hermann-Hesse-Page HHP