Announcements and Events

(HHP also refers you to the calendars on the German page)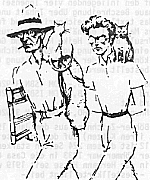 Drawing by Gunter Böhmer of Hesse and Böhmer.
---
The Hermann Hesse Page has been published at the University of California, Santa Barbara, since 1996. All Rights Reserved.
---
12/10/2001

Siddhartha Film




According to the latest news from Europe, a German-language video of the film may be released soon.

If an American distributor can be located, it is possible that an English language version may follow. HHP

---

4/16/99

Hesse Lecture Series
at
Oglethorpe University Museum

The museum announced four lectures from April 20 until May 11, 1999


in conjunction with its current exhibition

Hermann Hesse: Novelist, Poet, Painter


Source: Jackie Kurklis



---

4/6/99
10th International Hermann Hesse Colloquium
CALW
May 13 - May 15, 1999
Program
(in German)
Send inquiries to Ms. Heike Sander
Schillerstraße 8 (Akademie)
75365 Calw
Tel.: +07051-9229-0
Fax: +07051-9229-10
Email: 0705192290-0001@t-online.de
Source: Mitteilungen aus Calw #24, 1999
---
4/1/99
Recital in Santa Barbara
Sunday, May 2, 1999
Poems by Hermann Hesse and Robert Frost
set to music by A.K. Böhm
Andreas Reibenspies, Bariton
A.K. Böhm, Klavier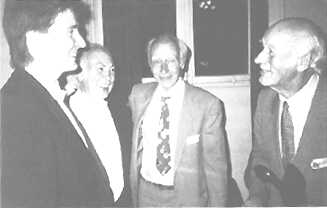 From left: Andreas Reibenspies, Adolph Kurt Böhm, Heiner Hesse, Bruno Hesse, 1992
3 p.m.
Unitarian Society
1535 Santa Barbara Street
Santa Barbara, California
A unique concert event in Santa Barbara to benefit the International Academy
Hermann Hesse

Soirée
Frühlingsnacht
La belle qui veut
Nacht im Odenwald
Wanderschaft
Traum
Der Straßenkehrer

Im Garten meiner Mutter
Im Nebel
Liebeslied (O Du, ich kann nicht sagen)
Rokoko
Mondnacht
Ankunft in Venedig
Lied auf der Landstraße

Im Schloß Bremgarten
Der Mann von fünfzig Jahren
Jugendflucht
Liebeslied (Ich wollt, ich wär eine Blume)
Pilger
Pfeifen


Robert Frost

Stopping by woods
My november guest
The aim was song
A prayer in spring
Information:
Phone: (805) 965-9889
Fax (805) 965-3230
email: eboehm@isimu.edu
Source: Eric H. Boehm
---
4/2/99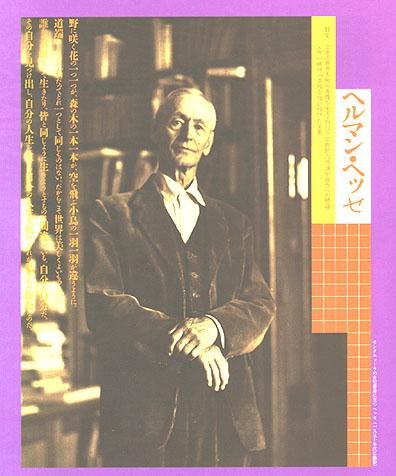 Image of Japanese magazine featuring Hermann Hesse


The exhibition from March 17. - 29. 1999 at
Kintetsu Department Stores, Kichijoji, Musashino City, Tokyo
concluded with a count of 10,000 visitors

It can now be seen at


Toyosu Cultural Center, Kot-ku, Tokyo

March 31. - April 18. 1999

The exact dates for other exhibition sites are still open.
Source: Makoto Shindo
---
1/29/99
Hesse exhibition at Oglethorpe University
Atlanta, Georgia
February 14 - May 30, 199

Oglethorpe University Museum announces the exhibition "Hermann Hesse: Novelist, Poet, Painter" featuring watercolors, pen and ink drawings, first edition books, photographs and a full-color replica of Hesse's 1946 Nobel Prize for Literature. The exhibition will open to the public on Sunday, February 14, 1999 and remain open through Sunday, May 30.



Address: 4484 Peachtree Road, N.E. Atlanta, GA 30319
Directions: The museum is located on the third floor of the Philip Weltner Library Building, near the rear of the Oglethorpe University campus. Free parking is available in the rear of the building.

The Museum is open Tuesdays through Sundays from noon until 5:00 p.m, remaining open until 7:00 p.m. on Thursdays. Admission is free with ample free parking.




For more information call (404) 364-8555, or send email to museum@oglethorpe.edu.





Source: Jackie Kurklis
---
Posted 12/2/98
Siddhartha CD-Rom in German was issued in the fall of 1998
The text (Basisbibliothek), the CD-Rom and the Audio Book have been released. HHP believes this to be a well-done innovative project. Beyond that, it might be an excellent learning tool for students of German language and literature in foreign countries.

Check Terzio in Munich and look under "LiteraMedia". Click here for an image of the CD.

You will find more information on the Suhrkamp Page, Frankfurt a.M., if you search for "Siddhartha" in the GESAMTKATALOG of the page.

For quick, easy, and inexpensive ordering of the materials from Germany you might try the German affiliate of Amazon.com (formerly "telebuch.de"). Search for the most recent editions of "Siddhartha"
---
---
Send comments and suggestions to the Hermann-Hesse-Page

Return to Main Menu