© HHP 2011-09-05
editors [ at ] hermann-hesse-page.de
Collectors' Items - Für Sammler
(Disclaimer at the bottom)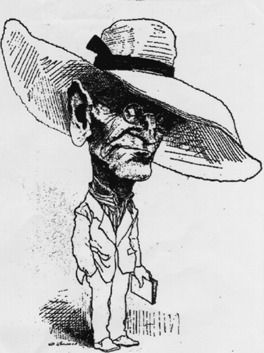 Hermann Hesse, by David Levine 1969
from Volker Michels' "Hesse in den USA - Hesse bei uns",
Westermann Monatsmagazin, Mai 1971, pp.52-59.
and "Hesse. Sein Leben in Bildern und Texten"
Insel Taschenbuch, it 1111, Copyright © Suhrkamp/Insel Verlag, 1985
---
2011-09-05
Von Hermann Lauscher bis zum Steppenwolf.
Gunter Böhmer illustriert Hermann Hesse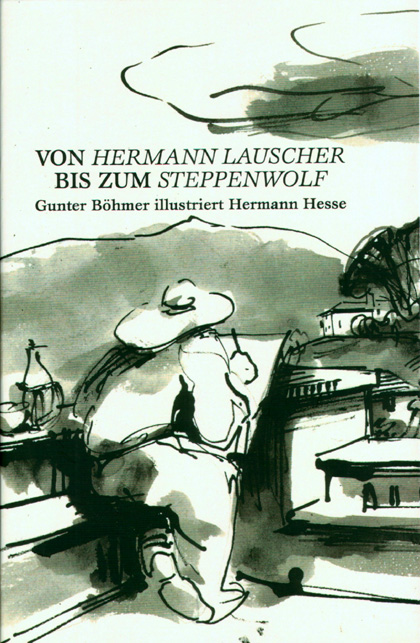 Katalog
Bearbeitet von Ute Hübner und Roland Stark.
Gaienhofen: Hermann-Hesse-Höri-Museum 2011. 77 S.
(Beiträge des Hermann-Hesse-Höri-Museums. Hrsg. v. Ute Hübner)
Quelle: Michael Limberg, 9/2011
---
August 3, 2005

Hermann Hesses Lulu in Kirchheim/Teck
Vom Überdauern einer abgewiesenen Liebe

von Volker Michels

in

SPUREN 57

Januar/Oktober 2004

Deutsche Schillergesellschaft Marbach am Neckar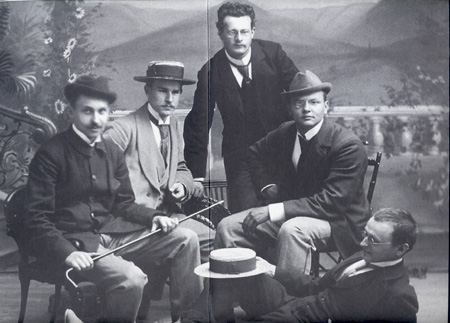 Die Mitglieder des "petit cénacle" im August 1899
bei ihrem Abschiedstreffen in Kirchheim unter Teck
Von links nach rechts: Otto Erich Faber, Oskar Rupp, Ludwig Finckh, Carl Hammelehle und Hermann Hesse
Umschlagbild Foto: Otto Hofmann, Atelier, Kirchheim unter Teck (jetzt Esslingen)
SPUREN 57
Januar 2004
Hgg. von Heike Gfrereis, Ulrich Ott und Thomas Scheuffelen
Mit 10 Abbildungen ISBN 3-933679-70-2 15 pp.
Quelle: HEA Ofb
---
March 21, 2004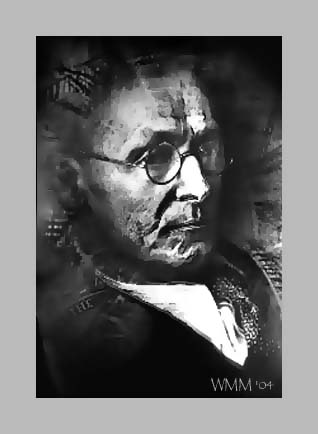 by
2004
Source: WMM, 2004
---
I have put a hesse poster on ebay 7/10/02
at

http://cgi.ebay.com/ws/eBayISAPI.dll?ViewItem&item=2120969608
You may list this on your collectibles page if appropriate and use the photo at
http://artifaxbooks.com/ebay/0710hesse1.JPG


Tom French
---
"Piktor's Verwandlungen


Ein Märchen von Hermann Hesse
Edition Classic Art
Faksimile der vom Verfasser geschriebenen und illustrierten Exemplare für Kurt Wolff und Gunter Böhmer
Mit einem Vorwort von Volker Michels
© Edition Classic Art, CH-8610 Uster, 2002
(hardcover, numbered)
---
"Krisis"

Hermann Hesse
Nummer 273 von 1000
gut erhalten - beautifully conserved according to seller
Oto Reifschneider
oto_dias@yahoo.com
1. Mai 2001
---
Book and manuscript auction at Bonhams in London

September 28, 1999
Hesse (Hermann) - A series of four mansucript poems, each signed by Hesse, and interleaved with 4 original watercolors captioned in Hesse's hand, gilt-ruled vellum boards, 8vo, [c.1930?] - 2,000 - 3,000 pds. Send mail to Bonhams in London. The whole sale is accessible at www.bonhams.com. Samples below.
---

Calcutta, 1999
published by Martin Kaempchen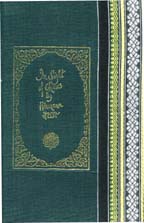 ---


You are encouraged to visit a web-site for book collectors
to get help in finding the above and other titles
Books-Rare: The Book Collectors' Home
http://www.books-rare.com

Quelle/Source: GG 9/19/97

---

Eigenhändige und maschinenschriftliche Briefe und Karten
sowie Manuskripte und Aquarelle von
Hermann Hesse
werden regelmäßig in den
Autographen-Auktionen von J.A. Stargardt
http://www.stargardt.de
angeboten.

Quelle: Wolfgang Mecklenburg, 6/18/99

---




Occasionally the "Hermann Hesse Page" hears of specific collectors' items for sale. Space permitting we may bring these to your attention as a public service. We cannot assume any responsibility and have no commercial interest in the material on this page, or its sale. The information was provided by the "Source" listed at the lower right of each item. Beyond that we refer you to the copyright statement in
Copyright Statement of the University of California.

---
Send comments and suggestions to the Hermann-Hesse-Page HHP
Posted as a non-commercial public and educational service